Why Choose TKAT?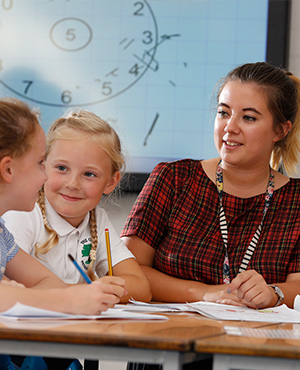 The Kemnal Academies Trust (TKAT) School Centred Initial Teacher Training (SCITT) is an accredited Initial Teacher Training (ITT) Provider offering secondary (11-16) and primary (5-11) school-based initial teacher training awarding Qualified Teacher Status (QTS) with the option to study for a Post-Graduate Certificate in Education (PGCE) with Masters' credits.
Our HEI Provider responsible for the PGCE is Leeds Beckett University.
TKAT SCITT offer both salaried and unsalaried training opportunities. Please go to our "Vacancies" page.
TKAT is one of the largest multi-academy trusts in the South of England with over 40 secondary and primary schools. Our School Direct Lead Schools within our ITT partnership are Debden Park High School, Cleeve Park School and Chichester High School.
Our training is insightful and responsive to current developments in education, with a hands-on approach to classroom practice. Each one of our training sessions is delivered by highly skilled, experienced and passionate practitioners.
With us, you will gain confidence, skills and valuable experience. As a trainee, you will work alongside qualified teachers and provide a range of teaching and learning to ensure the progress of our pupils.
---
Seven reasons to train with TKAT:
University leaver or career-changer
Here at TKAT, we welcome trainees from a wide variety of backgrounds and experience – be it recent graduates from university, or experienced professionals looking to change their career.

Train in a variety of subjects
With TKAT, you can train to teach in either Primary or Secondary schools. We offer a Primary (5-11) programme and Secondary (11-16) programme. You can train in a wide variety of subjects. Please go to our "Vacancies" page.

Classroom-based training
Trainees will work in school alongside good and outstanding teachers four days a week and attend a professional studies day one day a week at their allocated training hub.

Whether you train through the TKAT School-Direct Salaried or Non-Salaried routes, you will have an opportunity to gain Qualified Teacher Status and work towards a PGCE qualification, delivered and assessed by Leeds Beckett University.

Conveniently located regional training hubs
We have regional secondary training hubs in Chichester, Essex and Kent. Primary trainees enjoy weekly training sessions at The Atkins Centre in Sidcup.

Proven track record
Our results speak for themselves. TKAT SCITT is a highly successful programme, judged as 'Good in all aspects' in our last Ofsted inspection (June 2014). Every year, an exceptionally high number of our trainees successfully complete their training graded Good or Outstanding.

Our caring support team will be there to guide you to success
When we've asked for feedback from our trainees, we've been delighted to discover that our friendly central support team is rated as being a significant factor in their satisfaction with the programme – we proudly provide bespoke support tailored to your individual needs.
You career can flourish at TKAT.
TKAT offers a full range of year-round training courses, workshops and learning days that will ensure your continued professional development. Every opportunity for career progression is available to you, from Newly Qualified Teacher (NQT) to Headteacher.